Twitter DJ for Windows: Traktor Scrobbler
There was already a Twitter DJ application for Mac OS users that was used to send the Artist and Title information from Traktor to Twitter, now there is also a Twitter DJ application for Windows.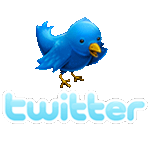 On the Native Instruments form I red a post from Ali DJ who had put effort in creating a Windows variant of the Twitter DJ application to support also the Traktor users on Windows. I haven't tried it myself yet, but a number of users already reported good results and it looks like it is much easier to set-up then the installation on Mac.
Trackback from your site.