Deep Swing – In The Music
There are a number of classic house vocals/acapella's that form a symbol for the soulful sound of house. Most famous is the Who is Jack acapella. Another one that I, unfortunately, don't hear anymore is In the music from Deep Swing.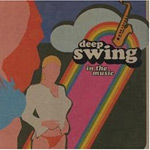 Both the track and vocal of Deep Swing have that magic soulful house sound. While the track has a tempo of 127 BPM, it is the great vocal that brings the relaxational feeling into the track. It was this track that tickled my senses and got me inspired for electronic dance music. With a great youth memory is Deep Swing – In the music the acapella for the month March.
Tags: Acapella, Deep Swing, Who is Jack
Trackback from your site.