Peter K. And Andrew M. – La Rubia
The new vinyl slice from Peter K. And Andrew M. features the tracks Pumpkids and La Rubia.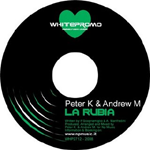 The first one is the sum of all Alex Gaudino's saxophone sounding tracks from last year with on top some kid's vocals. La Rubia is a track based on the samples of the Magic Carpet Ride from the Mighty Dub Cats. That song however may have some potential.
Trackback from your site.