Madonna has contributed a lot to the world of pop music, in all kinds of formats and styles. One track I always have loved because of it's great remixes was Ray of light.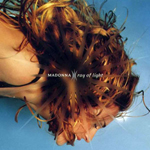 Ray of light is not the track from Madonna you expect to hear in a club or bar. But also on the radio the track doesn't get much airplay anymore. The track was used in the commercials of Microsoft for the release of Windows XP back in 2001.
I like to play the Metro Club Mix or just mix some fragments of the acapella with lots of echo on it. A famous mashup was made by DJ Mark Vidler. He combined Madonna with the Sex Pistols which resulted in Ray of Gob. A mashup of my own isn't in the planning at this moment. but for the month November is Ray of light the acapella of the month.
Tags: Acapella, Madonna, Mark Vidler
Trackback from your site.