Missy Elliott – 4 My People
I think I can fill a whole year with acapellas from Missy Elliott. Her work is very strong and knows a lot of variety. She has for almost all moments a suitable acapella available. But all time favorite is still the acapella of her major club hit 4 My people.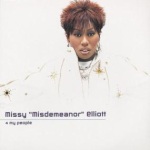 You can endlessly sample away with it and people recognize the voice and groove right away. Yo I'm on fire! Well I am once I get to play this acapella as well as a lot of her other work. All lights on Melissa Arnette Elliott and her 4 My people acapella.
Tags: 4 My people, Acapella, Missy Elliott
Trackback from your site.