I'm back from my vacation in Sunny Portugal and loaded with fresh energy and inspiration. During my stay in Albufeira I had the Lucky chance to see both DJ Tiësto and David Guetta performing live. They played both on a sponsored event from a Portuguese mobile network operator.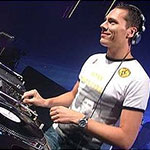 The first evening we got treated by a two hour live set from Tijs Verwest. The second evening we got rocked by David Guetta. With a beautiful show half on the beach in the old city centre, it was another great evening in Portugal. Especially David Guetta knew how to get a party started with a set full of suprises.
Funny details was how the Portuguese voice over pronounced the name Tiësto. In the movie above you can clearly hear this. Since at least half of the people were locals everybody was shouting this in the same way back.
Trackback from your site.