Bart Simpson – Do the Bartman
This month's acapella is going to be a very simple but famous acapella, since everybody knows the Simpsons. The song Do the Bartman was part of the Simpsons album that was released in 1990. I didn't have the numbers sharp but it seems that the single hit a lot of number 1 spots in the charts all around the world. In the Netherlands it got as close as number 3.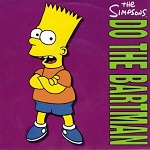 I like this acapella for a number of reasons. It can be played at a very wide speed range, up to 50% pitch. While the original is rather slow it has been sampled into various happy hardcore tracks in the late 90s.
Younger children who are at the age of watching the Simpsons may not know the song but definitely recognize the voice of Bart.
When playing a 90s party this track can bring back the 90s ambient because of both its musical and TV memories. Best for last of course, it is one of the most happy acapellas I have in my collection, so definitely worth the acapella of the month spot during June.
Tags: 90s, Acapella, Bart Simpson, Do the Bartman
Trackback from your site.