Pioneer CDJ-2000 First Impressions
I've been playing around with the new Pioneer CDJ-2000s and Rekordbox for a week and have some first impressions. By long not enough for a thorough review but hey, first impressions count!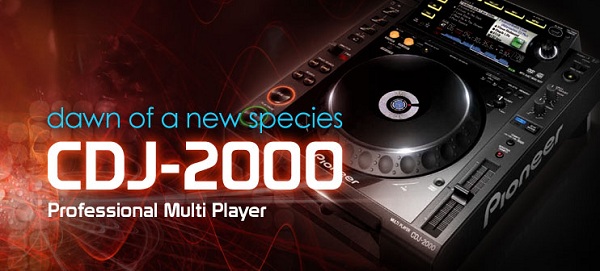 Well everyone already red about the looks, the size the display etc. Out of the box it makes a nice impression, I have to get a little bit used to the glossy deck plate but in a club environment you won't notice it that much anymore. Maybe good also, since every fingerprint will be visible.
Connecting
Setting up is easy, even though you can do some more connecting now. I connected them digital to the DJM-800, via Ethernet through an already present network switch and via USB to my PC for MIDI/HID control. First problems that arise are that the network cables aren't very long and the CDJs are shipped without USB?!?!? I double checked the manual to verify that they weren't simply missing. A fader start control cable that almost no-one uses is being delivered but a nice USB cable to use them for example with Traktor is not part of the deal.
Power
The player's weight has increased a little bit as did the power consumption according to the specs. Pioneer seems to have managed the heat disposal without the cooling fans on the back. In the past 1000s could run warm when build into a flight case and used in warm environments. The only part getting warm that I have noticed is the jog wheel screen.
Booting of the players is faster than I expected since there is more software in these. It is faster ready then a DJM-800, so not much to worry after a power failure.
Display
The display looks great and can be very bright to keep good visibility when playing on a sunny day in the outside. Even at the lowest brightness value (configurable) it makes the Pioneer DJM-800 display look pale, which is actually already pretty bright and clear.
The waveform is one of the major improvements over all other CDJs. There is now a clear distinction between brakes and pumping baselines. When Pioneer introduced the new display on the CDJ-1000 MKIII they dropped the zoom capability which was present at the MKI and MKII. I did miss it a lot since I liked to zoom to have a better look at the waveform. And in my opinion the MKIII waveform didn't show me what a zoomed in waveform of the predecessors did.
With the CDJ-2000 I have to do it again without the zoom, but this time I don't miss it at all. I think it is even far better than a zoomed in waveform.
Stability
The CDJ-2000 arrived with firmware 3.00 which is currently the most recent one and according to other owners also the most stable one. Although I already had some unexpected behavior freezes and crashes I'm not negatively surprised there. Of course I would also like it to work perfect but I'm a realist and software professional and know that there always be issues that show up after releasing to the market.
More difficult is the fact the crashes are hard to reproduce, making it even more difficult for Pioneer to solve them.
More…
I will be blogging more about the CDJ-2000 and Rekordbox the coming weeks maybe even months, so stay tuned.
Trackback from your site.