Traktor Scratch Pro 1.2 R7649 Beta
A new beta version of Traktor has been released by Native Instruments with the number 1.2.0 R7649. Since I was already working with the first beta version I decided to keep up with the latest one. I didn't find any major issues in the previous release, however the beta forum from Native Instruments does show a number of topics regarding crashes or incorrect behavior.

Unfortunately Native Instruments didn't create a list with changes so far, so it is hard to tell what they have fixed in this release. The new beta has expires on 01-10-2009. Last time I expected only one beta because of the stability. However, it looks like Native Instruments is going for 200% stability which is a good thing. I'm planning on testing this version of Traktor Scratch Pro with my AKAI APC 40 and in sync with Ableton Live.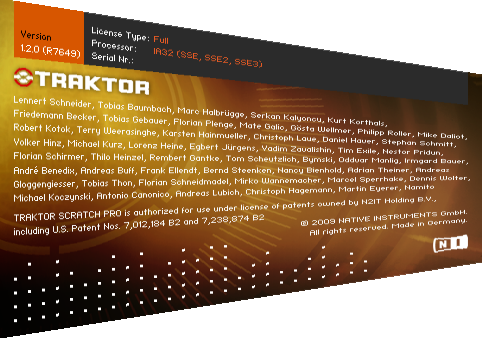 Trackback from your site.