Wildchild – Renegade Master
Back once again… I think everyone knows what comes next. It are the famous words of the classic track Renegade Master that got remixed by Fatboy Slim and an endless list of other artists. I even have a great bootleg remix on Vinyl of it. But even the acapella alone has even become famous enough to make it to the CD map of every self respecting DJ.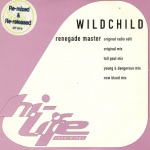 The original track comes from Wildchild alias Roger McKenzie. Unfortunately he died at the age of 24 and while I'm turning 25 this month, it makes me realize how short life might be. I think Roger could have done much more great work if he would have had the time. It is with great respect that I would like to dedicate the monthly acapella space to Roger McKenzie's Renegade Master for the month August.
Tags: Acapella, Renegade Master, Roger McKenzie, Wildchild
Trackback from your site.