Axwell & Bob Sinclar Feat. Ron Caroll – What a wonderful world
Last month Obama finally has become president for the United States of America. The speeches during his run for president reminded me sometimes back to the world famous freedom speech from Martin Luther King. That speech has been used many times in house tracks and live sets by DJs from all over the world and become a major legend. For me it is almost as secret as the Who is jack acapella, of which the lyrics form the constitution of house music.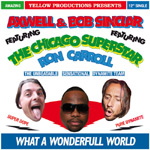 Because of Obama's presidency I was planning on putting the speech of Martin Luther King as acapella of the month. But I think we have a new version of this speech: What a wonderful world from Axwell & Bob Sinclar Feat. Ron Carroll.
The description of a dream describing a perfect world makes the link with Martin Luther King. And if you play the intro of the acapella without any music you just have another great freedom speech. A speech that would be great as a house set intro. That is why I really like the Nari & Milani Remix and that is why Axwell & Bob Sinclar Feat. Ron Carroll – What a wonderful world is the acapella of the monty February.
Tags: Acapella, Axwell, Bob Sinclar, Martin Luther King, Nari & Milani, Obama, Ron Caroll
Trackback from your site.