Shaft – Mucho mambo (Sway) 2009
I've loved this song from the beginning. The hit on the metal drums, followed by the simple but happy melody. However, that was 10 years ago.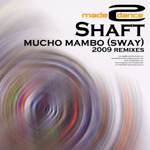 But with the 2009 remixes it has been armed for a new round of Sway. I must say that I really like the Eric Witlox remixes of Mucho mambo. They start just like it was back in 1999, but with a little twist. Tough you might not notice anything until that moment that the beat hits you and the stuttering samples then still have to come. I think I'm in love again…
Trackback from your site.