The acapella of the month October goes to Class Action – Weekend. While I was looking up more information about Class Action as band I was surprised how little there is available on the internet. There very small, one time only, success was in the Netherlands and not bigger then an alarm notation on April 23, 1983.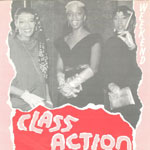 The vocals in the track came from Christine Wiltshire and are the only thing left today. They have been re-used in remix productions by Todd Terry and others. From a House genre point of view are powerful disco vocals always good. If those vocals sing about going out, then they are a 100% fit for my acapella list. I write this one next to Michael Grey – The weekend, Till West – Same man and many others.
To support the work from Class Action and give it a place in the spotlight is it the acapella of the month October.
Tags: Acapella, Class Action, Michael Grey, Till West, Todd Terry
Trackback from your site.