Beats International – Dub be good to me
In 1990 they hit the charts big with Dub be good to me, the boys and girls from Beats International. Today the sound and samples still echo in many DJ sets, especially the acapella.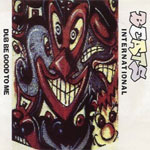 For a lot of people Beats International did only one big hit, but the people behind it have crawled all over the music scene to do there dance with Dub and Acid House sounds. People including big names like Fatboy Slim and Terry Lewis. Although the track was made following the work from the SOS Band's Just be good to me they definitely gave their own spin to it. SOS Band made it sound like a Disco track with a prudent funky synth while Beats International used a fat Dub beat and way more funky samples. The acapella is still of great value today, especially the end rap that came from Johnny Dynell's hit Jam Hot. One detail I like is the change from Just into Dub, be good to me.
Tank fly boss walk jam nitty gritty you're listening to the boy from the big bad city, this is jam hot, this is jam hot
Tags: Acapella, Beats International, Fatboy Slim, Johnny Dynell, SOS Band, Terry Lewis
Trackback from your site.