Bob Sinclar – The beat goes on
Since the release of Bon Sinclar's Love generation back in 2005 there is no stopping him. Hit after hit are fired around the world from a man who doesn't seem to lack any inspiration.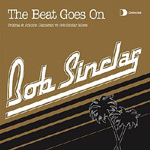 When it comes to the acapella's of Bob Sinclar I like to go back in time to 2002, when he reached the top of many charts with The beat goes on. I like the acapella since it has that rhythm all over it. You do not event need much of a beat to make this bursting of energy.
Fresh for the new year is Bob Sinclar with The beat goes on the acapella of the month Januari.
Tags: Acapella, Beat goes on, Bob Sinclar
Trackback from your site.