Cassius – The sound of violence
The ambiance around The sound of violence from Cassius has always been a little bit off. Especially the vocals from Steve Edwards in this track sound twisted.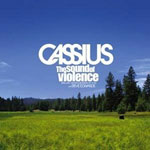 A little while back, when I was still DJ-ing at Café Miller Time, there was someone who was always requesting the Sound of violence. He always talked about how great the song was and that you never heard it anymore. He probably had some great memories from a summer festival of it.
Unfortunately for him I didn't have the track, but I always did have the acapella with me. So I always made a live mashup with another track to satisfy his request.
Today I was warping the track in Ableton and testing the warp markers and before I knew I had a mashup with AnnaGrace. So for everyone who had forgotten about this song and especially for the Miller Time requester, it's back in the spotlight as acapella of the month November and soon also in a mashup.
Tags: Ableton, Acapella, AnnaGrace, Cassius, Mashup, Miller Time, Steve Edwards
Trackback from your site.