Liberty X – Just a little
Unfortunately they are no longer together but Liberty X made some nice hits during there existence with as climax Just a little. As nice reminder is Just a little the acapella of the month.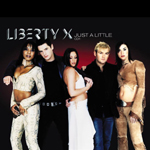 Liberty X consisted of drop outs from English television shows like Idols and Starmaker. Although they were drop outs they had more success then any of the winners from the music shows. That makes Liberty X special for me. The band split up in 2007 after which Kevin Simm started some solo activities at his MySpace profile.
Just a little was their hit which brought them fame in the rest of Europe. The acapella is good for live usage and in mixes. The chorus have something in common with Masters At Work – Work. For august is the acapella spotlight for Liberty X. A mashup with Liberty X has to wait till after my hollidays.
Tags: Acapella, Idols, Liberty X, Masters At Work, Starmaker
Trackback from your site.