I think Kelis has already made a great repertoire of music that contributed to new musical styles. However, I always had this feeling that there was more possible. Milkshake was ok and I did like Trick me a lot better. But from the moment I heard Acapella from her, I was sold!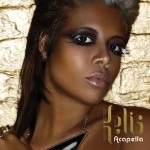 Finally she did it, a song that releases the full potential of her voice and energy that is in there. I have no clue how she got onto this and didn't take any time to look into it, but I know this is how I like Kelis to sing.
Lucky for me there is also an acapella version of the song Acapella, so now I can be a very happy man and say thanks to Kelis. To express my appreciation for this masterful peace of musical art I've decided to put it into the monthly acapella spotlight for the month July.
Tags: Acapella, Kelis, Milkshake, Trick me
Trackback from your site.