Michael Jackson – Billie Jean
I had planned for a very nice and powerful acapella that, when looped correctly, is a very great house tool. But that all changed when Michael Joseph Johnson died last Thursday. He has inspired many people and the name Michael Jackson became a world wide known brand.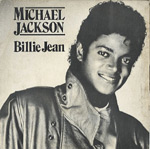 His collection of work includes also a number of acapellas and samples that are still used in today's productions. Of all those acapellas is Billie Jean my personal favorite and in memorial of Michael Jacskson, Acapella of the month July.
Tags: Acapella, Billie Jean, Michael Jackson, Michael Joseph Johnson
Trackback from your site.