Can Rekordbox iPhone App Connect to CDJ-2000
Looking at the start screen of the Rekordbox iPhone App there are a number of options. Import music, connect to Rekordbox, Prepare music with the App itself and load to CDJ. The last option looks appealing, it would brings new functionality to the CDJ-900 and CDJ-2000. But does it work?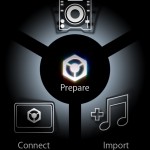 Since my CDJs are in my home studio connected to the home network which also has a Wireless Access point it is a peace of cake to connect my iPhone and CDJs together. At least from a network connectivity point of view. So with good hope and my thumbs up, I switched on my CDJs and let my iPhone connect to the wireless network. After starting and pressing the Load button in the Rekordbox iPhone App I get a short searching window after which it reports it is connected to one CDJ. Interesting, since there are two CDJs switched on and connected to the network. But maybe this is just a limitation, so let's continue.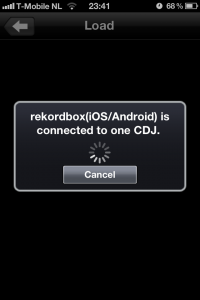 The message automatically disappears and a new messages pop ups. On the background you can see the music library on the iPhone being loaded. Also pay close attention to the main screen navigation icon in the lower left of the screen, it shows an eject icon.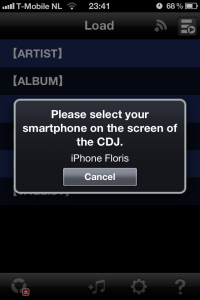 Filled with excitement I head over to the CDJ-2000 displays to see if there is any trace of iPhone Floris on the screens. I expect it to be in the link menu, but can't find anything. I've tried a number of connection attempts, also with only a single CDJ-2000 turned on but no luck. I already have the latest firmware 4.11 running on the CDJs so nothing on that end.
It seems that this feature is only working for the Pioneer New Wireless DJ System XDJ-AERO. However, it does detect the CDJ-2000 players, so I am guessing that a new firmware update might bring this functionality also to the CDJ-2000s. Ofcourse you will still need a wireless infrastructire which isn't suitable for live setups. But in a studio setup like mine, this can be handy.
Trackback from your site.