As a DJ you sometimes wait for a major release of new tracks or dj gear. Today OverSoft, as one of the very first, got his Xone 4D. All reasons to head over to him and join the celebration of this wonderful new peace of equipment.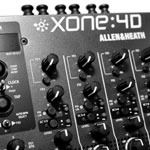 Unfortunately there were no 64 bit drivers available yet, so we had to stick with a MacBoook air. Also the drivers for the MacBook waren't working perfectly, but that couldn't take away our joy. A quick movie captured with my mobile phone shows just a fraction of the endless posibilities that you can do with this new mixer from Allen & Heath. The only limitation seems to be someones lack of creativity.

Trackback from your site.