Pioneer DJM-800 Limited Edition
Since the wide availability of blue LEDs everyone wants those cool blue colored lighting buttons in his gear. It was for me the first thing I saw on the Pioneer DVJs and also the first I saw at the VU meters of the SVM-1000 which look amazing.
I was hoping and also expecting that Pioneer would place them on the DJM-2000 but they didn't. I think they keep the blue stuff for their video product line. Although there is now a DJM-800 Limited Edition…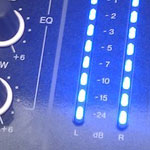 To be more specific, there is exactly one DJM-800 Limited Edition. So that is a really Limited Edition, not like the Reloop Limited stuff. DJ Kiki and someone with very good solder skills changed almost all LEDs in his DJM-800 giving it the look of the SVM-1000. It took him a lot of time to find LEDs with the correct size, color, angle and brightness while at the same time being electronically compatible. But the result is definitely beautiful.
Trackback from your site.