A nice battle between the Akai APC 40 and the Xone:4D as MIDI controllers for Ableton Live. It was today DJ House Container VS. OverSoft in a House Acapella session. We both did a little bit of preparation for a nice Ableton Live set and off we went.
Connection Setup (MIDI Clock, Audio, etc)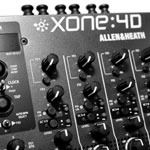 As setup I was using my AKAI APC 40 and Pioneer DJM-800, which was also the master mixer. The Xone:4D was connected to OverSoft's MacBook Air to use it as MIDI/Audio control interface. The Xone:4D was connected via audio to my DJM-800 and the MIDI signal was routed to my Native Instruments Audio 8 interface to provide my Ableton Live instance with a MIDI sync signal.
Initially we used the MIDI clock from Ableton on the MacBook. But that sometimes resulted in weird sync issues so we reconfigured the Xone to provide both Ableton Live applications with a MIDI sync signal.
Even with the Xone as MIDI master we did sometimes have an instability issue resulting in some crazy digital sounds from my Ableton's warp engine.
Xone:4D Drivers :(
Unfortunately the drivers of the Xone:4D are still an issue. Both on Mac OS as well as Windows they still have issues. So on Windows we had some spikes in the audio signal and on Mac OS everything crashed twice. Not to talk about the 64 bit drivers which are an even bigger drama.
Pioneer EFX-1000 MIDI Sync
Since also with the Xone the MIDI signal was not perfectly stable we've decided to try the Pioneer EFX-1000 as MIDI clock master next time. In that way we have a dedicated source for the MIDI clock signal which is easier to configure with a BPM value then the Xone:4D.
House Acapella Mix
Without much preparation, besides the thons of warp markers, we just took off and made a nice journey filled with eclectic, electro, minimal house beats and all kinds of acapellas.
Not everything went very smooth and we need to work a little bit on communication and preparation. But for a first mix without discussing what tracks we we're going to play I'm very happy with the result.
Because of the technical issues and driver failures of the Xone:4D there are some unexpected ends in the mix and is it split into three parts. A tracklist is still in progress since I need to receive some input from OverSoft on what tracks and samples he exactly did use.
APC 40 VS. Xone:4D movie
We did tape some parts of the mix, but need to make a compilation of the images and sync it with the mix. I will upload it to my YouTube channel once it is finished. OverSoft planned on making an own compilation of it, once that is available online I will make a new posting about it on the website.
DJ House Container VS. OverSoft - Part 1 (3424 downloads)
DJ House Container VS. OverSoft - Part 2 (1800 downloads)
DJ House Container VS. OverSoft - Part 3 (1769 downloads)
Trackback from your site.