Xone 4D Video Mix by Oversoft
Oversoft has done another great mix with Ableton Live, using the Xone 4D in combination with an iTouch Midi Application on the IPhone for optimal control. This set-up has worked great in the past and also this time. Watch the video's or download the mix.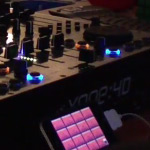 A list of the "ingredients" can be found below.
Tracklist:
Bart B More vs Oliver Twizt – Finally (Bart B More Remix)
E Sonic and Louis Ballar – Lobby (Dolce and Alex Muller Remix)
Chuckie – Aftershock (Can't Fight The Feeling) (Chuckie and Silvio Ecomo Remix)
Lucky Charmes And Kid Kalo – Ping Pong (Original Mix)
Robbie Taylor and Marc Macrowland – Black Bamboo (Hardwell Remix)
Addy Van Der Zwan – Nightmare (Noir Remix)
Sharam – Get Wild (Hardwell and Rehab Remix)
Sidney Samson – Riverside (Benny Royal and Robbie Taylor Mix)
Kid Cudi vs Crookers – Day N Nite (Bingo Players Remix)
Dons and Dbn ft. Kadoc – The Nighttrain (Jerry Ropero Remix)
Energy 52 – Cafe Del Mar 2008 (Deadmau5 Remix)
Chuckie – Let The Bass Kick (Blowup Remix)
Fake Blood – Mars (Original Mix)
DJ Glenn B – Punani (Johnny Dirtbag Remix)
TV Rock ft. Rudy – Been a Long Time (Laidback Luke Remix)
Cuzco ft. MC Martin De Man – Rockin (Ron Vellow Remix)
Acapella's:
Laidback Luke – Break the house down
Katy Perry – I kissed a girl
Daft Punk – Around the World
Daft Punk – Technologic
Queen – We will rock you
Fedde Le Grand – Put your hands up 4 Detroit
Men at work – Work
Fatboy Slim – Star 69
DJ Jean – Sound of disco
Brainpower – Dansplaat
Lex Da Funk – Fuck me
Faithless – We come one
Bassline:
Spoon, Harris and Obernik – Baditude (Dub Mix)
Oversoft - Xone 4D Mix (2009-04-20) (1728 downloads)
Trackback from your site.