There are a number of acapellas that are very likely to be played by DJs. Acapellas like Who is Jack, Music from Madonna, Bob Sinclar with The beat goes on and so on. The three acapellas I justed listed do have in common that they link to DJing by some phrases in the text, just like Dimples D – Sucker DJ.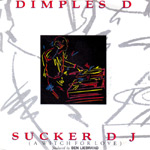 Sucker DJs (I Will Survive) from Crystal Smith, better known as Dimples D, is another acapella that should be in that same list. It also has a cool and strong link to DJing. For some reason I don't hear anybody play it in their live sets or mixes, except some DJ's from the 70s and 80s. Reason for me to put it into the spotlight as acapella of the month June.
Tags: 70s, 80s, Acapella, Bob Sinclar, Crystal Smith, Dimples D, Madonna
Trackback from your site.