Tamperer Feat. Maya – Feel it 2008
For some reason I completely forgot to publish a new acapella of the month. But with Feel it 2008 from the Tamperer Feat. Maya I would like to make up for the absent.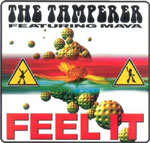 I had this acapella for some time on my list as monthly acapella candidate. I've always liked this American-Italy dance act and it is for me a typical late 90s track. The song used samples that go back to the Jacksons' Can you feel it. Stuttering the acapella though some house set gives a nice effect. Although a little bit late, it still is a great acapella and therefore put it up as acapella of the month February.
Tags: Acapella, Feel It, Maya, Tamperer
Trackback from your site.