Max Linen – The Soulshaker
I can't imagine vocals of a track that sound bigger and with more soul power then the sound of "The Soulshaker" from Max Linen. A British producer duo that made a huge record with this song. The space in this track is almost completely consumed by these great vocals from Keithen Carter.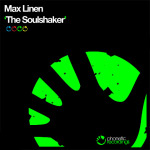 I really love this guy, the raw sound of someone who has lived his life, done everything god has forbidden. That's what can be heard back in his voice, whether that is true or not, is irrelevant to me. Definitely the acapella for the month October.
Tags: Acapella, Keithen Carter, Max Linen
Trackback from your site.